This article is about the
real world.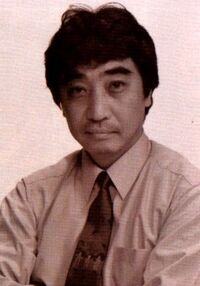 Hirotaka Suzuoki (鈴置 洋孝; March 6, 1950 - August 6, 2006) was a voice actor.
Biography
In the Dragon Ball franchise, Hirotaka Suzuoki was the seiyū for Tien Shinhan, the World Tournament Announcer, Mr. Shu, Caroni, the Alien Announcer, Captain Chicken, Dolltaki, and Rage Shenron. From 1984 to 1986, he was a member of the Japanese band SLAPSTICK (スラップスティック), replacing Yūji Mitsuya on keyboards, with the other voice actors Toshio Furukawa (rhythm guitar), Tōru Furuya (drums), Akira Kamiya (bass), Kazuyuki Sogabe (lead guitar), and Akio Nojima (Saga in Saint Seiya and KITT in Knight Rider). In 2007, SLAPSTICK got together to pay tribute to former band members Hirotaka Suzuoki and Kazuyuki Sogabe.
While he was hospitalized with an unspecified illness in March 1991, Kōichi Yamadera filled in for him for the scenes where Tien was shown on King Kai's Planet in Dragon Ball Z episodes 82 and 84.
In 2006, Suzuoki died at the age of 56 as a result of lung cancer. Tien was originally intended to appear in the 2008 special Dragon Ball: Yo! Son Goku and His Friends Return!!, but was not included out of respect for Hirotaka Suzuoki's death. His replacement for Tien's voice in Dragon Ball Kai is Hikaru Midorikawa.
Community content is available under
CC-BY-SA
unless otherwise noted.