This article is about the
real world.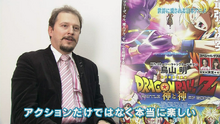 "This time in particular, we had a request from sensei to leave in not only the action, but also some truly enjoyable... the truly enjoyable aspects of Dragon Ball; Dragon Ball's chaotic feeling, and the action of Gohan's battles and of the Z Fighters are mixed together very well, so I believe that has also helped make it an enjoyable movie."
— Gyarmath Bogdan about Dragon Ball Z: Battle of Gods, MAG Net, NHK, March 1, 2013
Gyarmath Bogdan (born in 1969, in Romania) is a Toei Animation producer.
Biography
Gyarmath Bogdan participated in the democracy movement in Romania. In 1992, he went to Japan in order to study Japanese culture. Gyarmath Bogdan then got a role at a major animation production company in Japan, Toei Animation. He was assistant producer for the HeartCatch PreCure! film, and he was also involved with the production of the Tanken Driland TV series. Gyarmath Bogdan is involved with the production of the 2013 movie Dragon Ball Z: Battle of Gods, and he is said to have been appointed for this work to expand the sort of multi-faceted force in Dragon Ball. He is also said that, with his non Japanese perspective, he is obsessed with putting in many gags where previous Dragon Ball Z theatrical productions were centered around battles.[1]
References
↑ MAG Net, NHK, March 1, 2013
Community content is available under
CC-BY-SA
unless otherwise noted.