This article is about the
real world.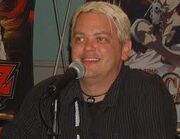 Gregory Scott Ayres (born December 7, 1968, in Richmond, Virginia) is an American voice actor and singer. He is best known for voicing anime characters. Greg is the brother of Chris Ayres.
Biography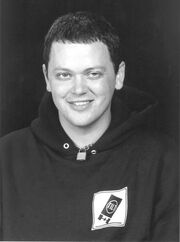 Ayres works on a number of English versions of Japanese anime series at Funimation/OkraTron 5000 and ADV Films/Seraphim Digital. He is also a DJ for anime conventions.
He is the voice of Guldo in Dragon Ball Z Kai, and performed the fourth English version of the opening theme "Dragon Soul". He also voices Frost in Dragon Ball Super.
Some of his other roles include Tatsuya in Knights of the Zodiac, Cabaji in One Piece, Shinpachi Nakagura in Peace Maker Kurogane, Satoshi Hiwatari in D.N. Angel, Kyohei in Burst Angel, Chrono in Chrono Crusade, Heihachi Hayashida in Samurai 7, Tsujido in Speed Grapher, Negi Springfield in the Negima franchise, Jun Kitagawa in Kanon, Onigiri in Air Gear, Rygart Arrow in the Broken Blade film series, Ganta in Deadman Wonderland, Kousuke Asazuki in Spiral, and Son Goku in the Saiyuki franchise.
Community content is available under
CC-BY-SA
unless otherwise noted.