This article is about the
real world.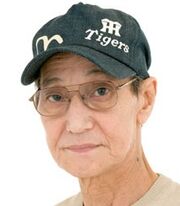 Gorō Naya (納谷悟朗; November 17, 1929 - March 5, 2013) was a Japanese actor, voice actor, narrator, and theater director from Hakodate, Hokkaidō.
Biography
Gorō Naya was the older brother of actor and voice actor Rokurō Naya, and the husband of actress and voice actress Kachiko Hino. He was a drop-out of the legal education division of Ritsumeikan University. He debuted as a voice actor in the 1950s, and he was the main voice actor for some great Hollywood actors in their film's Japanese dubs; including Charlton Heston, Clark Gable, and John Wayne. Gorō Naya was connected to Theater Echo.
He is best known for providing the voice of Inspector Kōichi Zenigata in the Lupin III. He was also associated with numerous other classic anime franchises; such as Space Battleship Yamato, Casshan, and Nausicaä of the Valley of the Wind. Gorō Naya voiced Bongo in the movie Dragon Ball: Curse of the Blood Rubies.
On March 5, 2013, Gorō Naya passed away at his home in Chiba City due to chronic respiratory failure. He was 83 years old.
Community content is available under
CC-BY-SA
unless otherwise noted.