"This article is currently a work-in-progress. Please be patient as I gather all information for future completion. In the meantime, check out other collectible articles currently completed."
— PrinceZarbon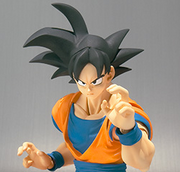 There are currently a total of 1000+ Goku (孫 悟空), also known as Kakarot (カカロット) collectibles that have been released by numerous companies to date. A gallery and the attached information appends to the official releases and genuine specifics in regards to the additional merchandise pertaining to each release.
AB Groupe
Bandai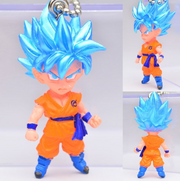 UDM Burst 11 Fukkatsu No F Edition
Release date: 2015
The UDM Burst Edition 11 is a tribute to the Fukkatsu No F movie and features five additional newly modeled pieces. Unlike most recent UDM pieces, which have been re-releases of previous series, this is a newly modeled set featuring these new pieces. The set includes Mr. Satan declaring victory, Jaco the Galactic Patrolman in a pose, Golden Frieza with a sinister glare, God version Goku with a determined look, and God version Vegeta with a confident expression. Each piece is modeled with a shiny, glossy touch and are a part of this commemorative UDM set paying tribute to the Fukkatsu no F movie.
Banpresto
MegaHouse
Plex
Chinese Manufacturer
Super Guerriers Re-Release Series
Release date: 1996
A re-release set of the original Super Guerriers was made by a Chinese Manufacturer and included three different reversion packaging styles. The three pieces included in this set are Super Saiyan Vegito, Super Saiyan 3 Goku, and Super Saiyan Gogeta. The actual quality of the pieces is nearly as genuine as the original vintage releases. Each holds a slightly different paint job in comparison to the original version but none are lesser in their depiction. Additional differences are found in the packaging scheme, each piece coming with a unique slide-out backboard and a larger display bubble. The Super Saiyan 3 Goku piece is the same model as the AB number 6 piece. There are some minor differences, however, when it comes to this specific piece. The re-release variant does not include his initial halo. However, there is slightly greater detail on his boots, having the visible indents of the lining on his boots showcasing higher impression and a proper color palette.
Gallery
Community content is available under
CC-BY-SA
unless otherwise noted.