"The house Goku and his family call home. Though it doesn't look like it from the outside, it is a two-story building. Goku often heats a drum filled with water outside and uses it as a makeshift bath."
— Goku's House Z-Encyclopedia Summary in Dragon Ball Z: Kakarot

Goku's house (孫悟空の家, Son Gokū no Ie), is a house where Goku and his family live. Some time after the end of the 23rd World Martial Arts Tournament, the Ox-King bought the large house for Goku, Chi-Chi and their family to live together. Incidentally, the Ox-King is often seen spending time with the family here as well.
Overview
Goku's house was introduced in the very first episode of Dragon Ball Z. However, it was not officially introduced in the Dragon Ball manga until the middle of the Frieza Saga. As such, the anime's design of the house was initially different from the manga's design (though still similar in size) and was located right beside Grandpa Gohan's House, at the foot of a forest near Mount Paozu. The anime's version of the house is also featured in the first five Dragon Ball Z movies and several video games. During the Androids Saga, however, Goku's house in the anime was changed to match how it looked in the manga and re-located away from Grandpa Gohan's hut.
Goku's house features a kitchen in the white hut area, a bedroom and presumably another bedroom in either the other side of the larger part or the narrow side area which connects to the larger part of the house. There is also an outdoor bathtub (which is effectively a steel barrel over the top of a fire) as seen during the first four Dragon Ball Z movies and the end of the Kid Buu Saga.
Android 16 states to Android 17 and Android 18 that Goku's house is located in the East District; its address is 58N 018, 439 East District to be exact.[1][2]
In Future Trunks' Alternate Timeline, Goku's house is where Future Goku passed away from a Heart Virus with his bedside surrounded by his wife Future Chi-Chi, family, friends, and fellow Future Z Fighters. Following the deaths of all the Z Fighters save for Future Gohan, Future Ox-King moved in with his daughter Future Chi-Chi due to the threat of the Androids and Future Chi-Chi being all alone after Future Gohan effectively moved out in order to readily confront the Androids.
In the Dragon Ball Super anime, Gohan moves into a house in Satan City after marrying Videl. In the episode "Goku's Energy Is Out of Control?! The Struggle to Look After Pan", Goku, Chi-Chi and Goten are forced to move in with Gohan, Videl and Pan temporarily after Goku destroys his house by accident when he flies right through it due his Delayed Onset Ki Disorder. By the next episode, however, Goku's house is back to normal.
During the Peaceful World Saga of Dragon Ball Z in the anime, Gohan is shown living in a house next door to Goku's home with Videl and Pan and it remains this way in Dragon Ball GT. In the episode "A Worldwide Problem", Goku and Gohan's house are both destroyed by a Baby-infected Gohan and Goten while powering up to fight Goku and Pan. Both houses are later restored along with the Earth by Porunga after the defeat of Baby.
Known Residents
Visitors
Video Game Appearances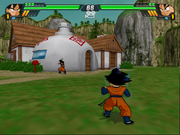 Goku's house appears in Dragon Ball 3: Gokuden, Dragon Ball Z: Super Gokuden: Totsugeki-Hen, the Legacy of Goku trilogy, Dragon Ball Z: Attack of the Saiyans, and Dragon Ball Online. It also appears in cutscenes of the Supersonic Warriors series and in the Mount Paozu battle stage of Dragon Ball Z: Budokai Tenkaichi 3.
It is one of the ten locations in the board game The Heroic Dragon Ball Z Adventure Game.
In Dragon Ball Z: Kakarot, Goku's House appears in the Southeast Mountains Area of Earth. Chi-Chi can normally be found in and around Goku's House save for a few scenarios such as before a certain Sub Story. Certain mementos of Goku and Chi-Chi's can be found inside Goku's House at different points in the story, such as the Marked Stone Master Roshi threw during Goku and Krillin's Turtle School training and Chi-Chi's helmet which are Memorabilia that unlock Memorial Spot entries in the Z-Encyclopedia's World section under Memorial Spots and entries in the Z-Encyclopedia's Items section under Memorabilia. In the Z-Encyclopedia's World section under Landmarks, the entry for Goku's House mentions how he heats up a drum filled with water as a makeshift bath and the fact it is a two-story house despite its outward appearance. Goku's House is the site of a few Sub Stories. Outside Goku's House there is a Training Grounds where characters can perform Mental Simulation Training to unlock certain Super Attacks.
Gallery
References