Directory: Techniques → Offensive Techniques
God Bomb (ゴッド玉, Goddo-Dama, lit. "God Sphere") is a variation of the Spirit Bomb used by the playable characters in Dragon Ball Heroes.[1]
Overview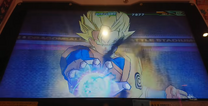 To perform the attack, up to 6 warriors need to give a bit of their energy to another warrior. The God Bomb's size will depend on how many energy it has. After it is completed, the God Bomb will increase to a gigantic size, and the main user will concentrate it on his/her right hand and release it as a Meteor Rain-Like Continuous Energy Bullet, inflicting damage to the enemy opponents.
Video Game Appearances
The technique first appears and was named in Dragon Ball Heroes, where it was added as a game mechanic in God Mission 1.
References