Gizard Wasteland (ギザード荒野) is a rocky wasteland on Earth, located northeast of Paprika Wasteland. It is where Goku led Vegeta to for their battle in the Vegeta Saga.
Overview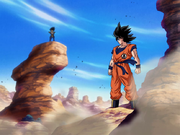 It is a very wide, rocky place located north of Paprika and Break Wastelands.
Video Game Appearances
In the Butōden series, it is called Rocky Area.
In Supersonic Warriors 2, it is called Wilderness.
Gizard Wasteland was named in Attack of the Saiyans. Enemies encountered here in this game are C. Sai, Saibaman, Dark Condor, Fire Dinosaur, Bandit King, and Bandit Queen. Vegeta is the only boss character in this location in this game.
In Battle of Z it is called Mountains and in the Xenoverse series, it is called Mountains or Mountains (Night) if it's night.
In FighterZ, it is called Rocky Field (Noon) or Rocky Field (Evening) depending on time of day.
Trivia