This article is about the
real world.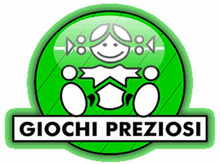 Giochi Preziosi, or Gruppo Giochi Preziosi, is an Italian company that is responsible for toy production, most of the franchise and distribution in relation to TV-series merchandise. They work in association with Marathon Media and Mondo TV. Included in the Grani&Partners licensing are Mitica Foods, Salati Preziosi, Dolci Preziosi, and Preziosi Collection sub-divisions. The Grani&Partners logo is a part of the Gruppo Giochi Preziosi licensing.
Overview
Numerous sub-divisions are present as a part of Gruppo Giochi Preziosi, including Salati Preziosi, Mitica Foods, Preziosi Collection, and Dolci Preziosi. Numerous lines of Dragon Ball, Dragon Ball Z, and Dragon Ball GT figurines have been produced in different packagings offered by Giochi. These pieces can be found in some foods as well as being offered in collectible sets. Many of Giochi's promotional figurine sets have incorporated Dragon Ball pieces.
Gallery
External links
Community content is available under
CC-BY-SA
unless otherwise noted.