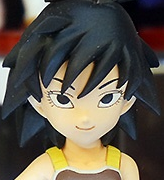 There are currently a total of 2 Gine collectibles that have been released by numerous companies to date. A gallery and the attached information appends to the official releases and genuine specifics in regards to the additional merchandise pertaining to each release.
Bandai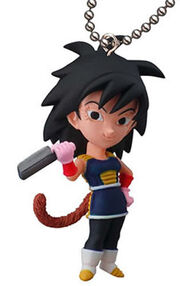 Dragon Ball Z UDM Burst Volume 9
Release date: 2014
Continuing its tradition of Ultimate Deformed Mascot Phone Strap pieces, the next series has been unveiled to be released in October 17, 2014. There are 5 different pieces in this volume and the figurines in this set stand at about 3 cm (45mm) and Gine is included in this set, standing in a confident stance while holding a cleaver in one hand and a smile across her face. Gine's unique posture adds depth to the portrayal of her detailed piece. All the figures included in this set come with their chains, which are intended to be used as phone straps or for other attachment accessories. Others included in this UDM Burst DBZ Volume 9 series set are Bardock, Baby Goku, Super Saiyan 3 Goku, and Super Saiyan 3 Gotenks.
Banpresto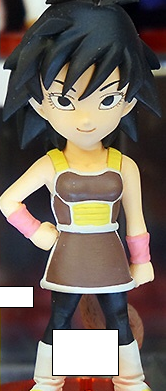 Dragon Ball Z WCF Vol. 0
Release date: 2015
This upcoming WCF Volume Minus 0 series is to incorporate a few characters appearing in the newly introduced Bardock back-story plot. This set is scheduled for release in February, 2015. Those included in this set are Bardock, Gine, child Goku, child Vegeta, child Bulma, and Jaco the Galactic Patrolman. Each piece comes with a unique packaging and is highly detailed for this exceptionally limited exclusive scenario set. Gine is seen standing with one hand kept to her side as the other rests against her waist.
Gallery