There is currently a total of 1 Giant (also known as the Giant from Monmaasu and Geant) collectible that has been released to date. A gallery and the attached information appends to the official release and genuine specifics in regards to the additional merchandise pertaining to each release.
DeAgostini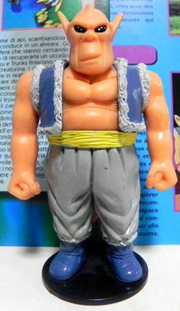 DeAgostini's Dragon Ball GT Collection
Release date: 2001
Italian manufacturer DeAgostini has released a 4-inch set comprising of approximately 60 characters, specifically limiting this slew of additions to Dragon Ball GT characters. The Giant from planet Monmaasu (who stood at a little under 5 inches) was included in this set due to his appearance in the Black Star Dragon Ball Saga, specifically the episode entitled "Like Pulling Teeth." The figurines are immobile with miniature bases to stand on. Notated with his alternate naming scheme on the bottom of his base along with the date of release, the Giant comes in a basic stance and maintains his quiet and generous expression. This piece has a light orange tint for the skin tone and is modeled to perfection. The Giant of Monmaasu is also one of Toriyama's designs which was incorporated in GT. Also, the model comes atop a black round base as opposed to a white one. As an Editions Atlas release, this figurine is number 20 of the base set and is number 32 in the primary set. Also, the Giant is credited as "Geant" on the packaging as an alternate international naming scheme.
Gallery