This article is about the
real world.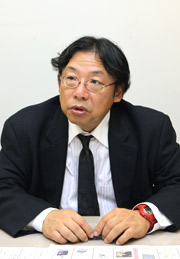 "So then, Kondō-san became the editor right around the time the Saiyan Arc began. At that time, Dragon Ball was explosively popular; when Jump did a 1000-ballot survey, at its height Dragon Ball got around 700 ballots."
— Fuyuto Takeda, Daizenshuu 1, 1995
Fuyuto Takeda (武田冬門; born in 1960, in Tokyo) is a Japanese editor who works for Shueisha. He is Akira Toriyama's third editor.
Biography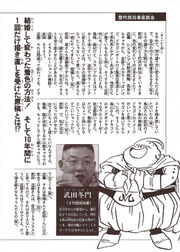 Fuyuto Takeda graduated from the Keiō University, Faculty of Letters, and he joined Shueisha in 1983. He became the editor for Akira Toriyama's Dragon Ball manga taking over Yū Kondō's position during the Perfect Cell Saga. He stayed until the end of the manga, and he also served as editor for Toriyama's post-Dragon Ball works. He was replaced by Kōhei Ōnishi for Toriyama's Jaco the Galactic Patrolman manga.
Takeda is the one who decided to give Mr. Satan a bigger role in the Dragon Ball series. In Daizenshuu 2, Takeda is said to be Toriyama's inspiration for the villainous Majin Buu. However, when asked about this in Dragon Ball Forever, Toriyama denied consciously basing villainous characters on his editors, but admitted that he might have done so subconsciously.
Outside of Akira Toriyama's manga series, Fuyuto Takeda was involved with the One Piece series.
Gallery