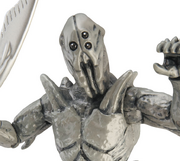 There is currently a total of 1 Fu-Lum (also known as Fulum) collectible that has been released to date. A gallery and the attached information appends to the official release and genuine specifics in regards to the additional merchandise pertaining to each release.
Bandai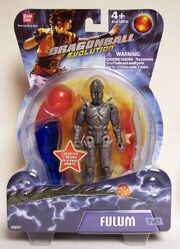 Dragon Ball Evolution series
Release date: 2009
The Dragon Ball Evolution figure series was released by Bandai in conjunction with the movie release. The Evolution set was released in March, 2009 and has a few figures in its repertoire, including Fu-Lum, 2 variants of Goku, 2 variants of Yamcha, Piccolo, Master Roshi, and Bulma. The inclusion of Fu-Lum in the set was a unique one as this design is limited to the Evolution movie. Additionally, when all the characters in the set are collected, they each come with a body part piece which forms the Oozaru "the big monkey" as a transparent blue figure in 6 inch scale. Fu-Lum also comes with a double-edged blade weapon and a Dragon Ball accessory. The Fu-Lum is figure number 7 of the set. The packaging reads the figure title as "Fulum" as opposed to "Fu-Lum" as an alternate naming and the front bubble reads "Collect all 7 figures to create Oozaru!" Bandai's assortment numeric for this set is 29730 and this piece is number 29737.
Gallery
Community content is available under
CC-BY-SA
unless otherwise noted.