Directory: Techniques → Offensive Techniques → Rush Attack

Flying Kick (飛び蹴り, Flying Kick) is a high speed physical attack.
Overview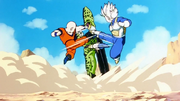 The performer attacks with kicks launched in a rapid succession, mostly during rushing. The opponent receives little damage, but it varies with the user. After performance, the opponent are stunned for a very short period, which the user can take for his/her advantage, by following up with more attacks.
Usage
The technique is seen often performed by Piccolo in the Dragon Ball Z series.
Video Game Appearances
The technique appears in the Butōden series. It appears under the name Cont.Kick in Dragon Ball Z: Legendary Super Warriors, and Flying Kick in the Budokai Tenkaichi series.
Many fighters are able to use and perform the Flying Kick in the Budokai Tenkaichi series; usually speedy characters, rather than slower giants like the Great Apes, Hirudegarn, Janemba in his first form, and Lord Slug. After a Flying Kick is performed, it will take the opponent longer to recover from subsequent attacks, and the follow-up attacks will have a greater effect than if performed without the Flying Kick preceding them.
Flying Kicks also have much less of an effect on giants in video games; the character usually is not stunned at all, although some stronger characters can stun them and follow up as normal.
Variations
The Flying Kick technique differ greatly from one fighter to another. The list below shows the most normal ways of performing the Flying Kick in the Budokai Tenkaichi series (Note: All the names of the Flying Kick variations below are not officials):
There are many other types flying kick techniques, but they are all based on the previously listed variations: to add a little extra in the fights, either for some extra damage, for showoff, or for pummeling. However, the Flying Kick can be blocked by the opponent, and on will take time to get back in the right position, giving the opponent a good opportunity to counter-attack. But the flying kick should be launched when the opponent is less expecting it, for the best results.
Gallery
References