m

Line 59:
Line 59:
 

{{Scroll box

 

{{Scroll box

 

|content=<gallery widths="120" captionalign="center">

 

|content=<gallery widths="120" captionalign="center">

 
+

KeshiFasha.PNG|Part 6 Keshi Fasha yellow figurine

 
+

KeshiFashaB.PNG|Part 6 Keshi Fasha transparent orange figurine

 

P6.jpg|Part 6 keshi set including Fasha

 

P6.jpg|Part 6 keshi set including Fasha

 

Part6-BandaiSEt.JPG|Part 6 keshi set including Fasha

 

Part6-BandaiSEt.JPG|Part 6 keshi set including Fasha
---
Revision as of 22:34, 30 June 2013
There are currently a total of 2 Fasha (also known as Celipa and Seripa) collectibles that have been released to date by numerous companies. A gallery and the attached information appends to the official releases and genuine specifics in regards to the additional merchandise pertaining to each release.
Bandai

Part 6 Keshi Set
Release date: 1990
This miniature Part 6 Keshi set has included a few of the characters from the first Dragon Ball Z movies, including the Lord Slug movie and some characters from the Bardock Special. One of Bandai's Keshi series, it has included characters such as Planthorr, Bardock, Borgos, Fasha, Shugesh, Tora, Nappa, Goku, two variants of Gohan, baby Goku, Prince Vegeta, Icarus, Toolo, and a Meatian.
Banpresto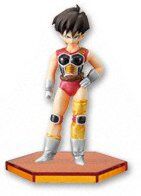 Legend of Saiyan Part 3
Release date: 2010
Banpresto has unleashed a wonderful repertoire of figurines on December 22, 2010 titled "Legend of Saiyan" series. In the Part 3 set of this collection, Fasha has been included with one hand resting on her side and the other being gripped beside her. Her expression holds a vivid smirk of joy, likely due to her most recent conquering campaign. Standing at approximately 80mm (3 inches), she also comes with a hexagonal orange colored base to stand on. Fasha is figurine number 14 of the set.
See also
Gallery
Community content is available under
CC-BY-SA
unless otherwise noted.