This article is about the
real world.
Enrico Bertorelli
(Turin, May 2, 1942) is an Italian actor and voice actor.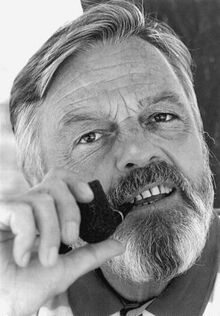 He dubbed with great intensity for the Milan dubbing companies giving uses voice to various actors of soap and soap operas including Robert Foxwood in "Club Med" (Dr. Stowe), Jordan Clarke in "Guiding Light" (Billy Lewis) and David Hedison in "Young and the Restless" (Arthur Hendricks).
He also voiced various characters in various cartoons like: Comm. Jim Gordon in "Batman", Don Alejandro in "Zorro", Father Taz in Tazmania, Com. Quimby in Inspector Gadget, Captain Morgan hand ax in "One Piece", Cell, in Dragon Ball Z, Abysses in "Beast Wars" and even Savio "Hamtaro", Mylock in the Saint Seiya - Hades, and Warren Vidic in Assassin's Creed video game .
In addition to double was a brilliant actor in film, theater and television, starring in several theatrical performances in several Italian cities (Milan, Turin, Rome, Florence) and Switzerland (Lugano), in movies and several television series, especially with Cristina D'Avena, in the trilogy dedicated to the famous singer in the role of the father of the protagonist, Philip. He worked in Mediaset and RAI productions.
Again for RAI he has worked in several radio dramas. Since 2008 began to double a lot less because of an accident on his vocal chords.
References
Community content is available under
CC-BY-SA
unless otherwise noted.