This article is about the
real world.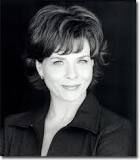 Ellen Kennedy is a Canadian actress who voiced Fortuneteller Baba and Princess Snake in the Funimation/Saban produced Ocean dub of the first 53 Dragon Ball Z episodes. She was one of the few cast members who did not return when Ocean dubbed the Android and Buu arcs for Westwood/AB Group.
Biography
She has appeared in theatres across Canada. Some of her roles include Lettie in Something's Afoot at Persephone Theatre, and Sister Mary Amnesia in Nunsense at the Citadel. Locally, Ellen co-wrote, performed in, and won a Jessie award for All Grown Up, which first ran at the Arts Club Theatre. A member of Vancouver TheatreSports, Ellen has appeared in X-Mas Files, TheatreSports Interactive, the touring version of See BC, and Star Trick, the Musical. In addition to theatre, Ellen sings jazz and swing around Vancouver and works regularly as an animation voice-over artist.