This article is about the
real world.
Elisabetta Spinelli (Milan, December 6, 1968) is an Italian voice actress belonging all'ADAP.
He works primarily in the dubbing in Milan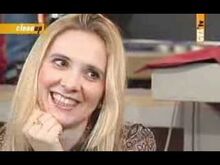 After receiving his theatrical training, Elisabetta Spinelli approached the world of dubbing almost casually. Starting with small characters, then she landed her first major role in rounding Paulette "The Twins of Destiny" (1992) and Miriam in " Ashita he Free Kick" (1994). Also in 1994, Elisabetta Spinelli was cast Usagi Tsukino in "Sailor Moon". He works with great enthusiasm about this character, thanks to his declared sympathy for the clumsy but courageous Usagi Tsukino. This role will prove decisive for the career of the voice actress, making it known to the general public and spalancandole the doors for many other roles starring in Japan cartons of great television success,including Miki in Marmalade Boy, Mikako Kouda in Neighborhood Story, Hikaru Shido in Magic Knight Rayearth and Bibi in One Piece, Hikari Uchiha in Naruto. The most recent figures are Winry Rockbell in Fullmetal Alchemist, Lory in Tokyo Mew Mew - Winning Friends, Lucia Nanami in Mermaid Melody - Princesses sirens, Angol Mois in Keroro, Chichi in Dragon Ball, Runo Misaki in Bakugan - Battle Brawlers. A movie theater has voiced actress Reese Witherspoon in the film Walk the Line.
Trivia
During the registration period, Elisabetta wore very long hair. Because of its vague resemblance to the character, often, on his arrival in the room, colleagues exclaimed, "Look, there comes Sailor Moon!";
Elizabeth is now one of the most popular Milan dubbing and a favorite among young people. Much is due from his own interpretation, considered by many masterful and inimitable, Bunny;
having the voice of Sailor Moon, in addition to having provoked a wave of popularity and acclaim for Elisabetta (even with invitations to television programs and talk shows), also he yielded to the woman winning the award for best female voice actress to Gala of 1997 Publicity.
References 
https://www.antoniogenna.net/doppiaggio/voci/vocies.htm
http://wiki.sailormoonworld.it/index.php?title=Spinelli_Elisabetta
http://www.animenewsnetwork.com/encyclopedia/people.php?id=25933