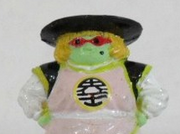 There are currently a total of 2 East Kai collectibles that have been released by numerous companies to date. A gallery and the attached information appends to the official releases and genuine specifics in regards to the additional merchandise pertaining to each release.
AB Groupe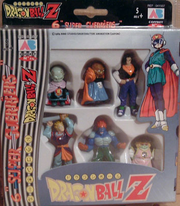 "Super Guerriers" Coffret No. 24
Release date: 1996
The first East Kai model was produced as a miniature collectible by French company AB Groupe in 1996 (dated 1989). The figurines were packaged six in a set and stood at a very small size, at about 2 inches in height. The packaging read as Dragon Ball Z "Super Guerriers" and this specific set was Coffret Number 24 (Series 24). East Kai stood in a basic stance with both hands resting on her waist as she expresses a pompous impatience with overconfidence. This was the only miniature scale East Kai figurine model offered by AB, although it was released in numerous packs. Others included in this set were Super Android 13, Garlic Jr., Super Saiyan Gohan with Kai clothing, Babidi, and Android 17.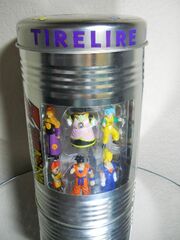 Super Guerriers Tirelire tin set
Release date: 1996
Also released by AB Groupe was a very rare spherical tin set that included a slew of characters circulating around the tin's exterior layering. These figurines are on scale with the other Super Guerriers miniatures also released by AB Groupe. An East Kai miniature collectible (the same one from Coffret No. 24) was included in this set along with some other extremely rare characters. Some of the pieces in this set are amongst the hardest to come by. Others included in this gift set are General Blue, Trunks, Minotia, Super Saiyan Vegito, and Goku.
Gallery
Community content is available under
CC-BY-SA
unless otherwise noted.