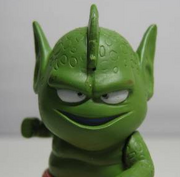 There is currently a total of 1 Drum collectible that has been released to date. A gallery and the attached information appends to the official releases and genuine specifics in regards to the additional merchandise pertaining to each release.
Plex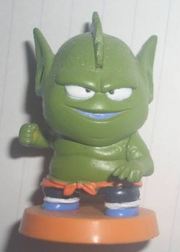 Dragon Ball Anime Heroes series Part 2
Release date: 2007
Plex has released an assortment of basic figures in the "Mini Big Head" style. Released in October 2007, this assortment, entitled "Anime Heroes" Part 2 has a wide variety of characters, including Drum. This Drum mini figure comes with a basic stance, with one hand locked into a fist as the other is placed in front in a prepared combat stance. The mini figurines go for a rather adorable and cute look. The figurines in this set stand at about 4.5 cm (1.7 inches).
Gallery