This article is about the
real world.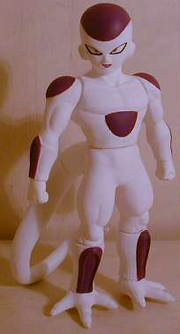 Dragon Ball Z SofVi (軟質ビニル), also known as Sofubi, are soft vinyl-based figurines released by sub-division Banpresto in 2004.
History
The UFO Catcher phenomenon has always had a strong reputation in Japan. Unveiled in 2004, these SofVi figures are not only some of the best Dragon Ball Z character depictions, but are also some of the only ones to feature these characters at a 5-inch scale. This series of SofVi figures would follow a larger SofVi figure release in the future.
SofVi series
The first UFO Catcher SofVi figurines (5" scale) from series 1 of the Banpresto UFO catcher line of figures was originally released in 2004. These figures come bagged with miniature tags depicting their series numeric and are immobile as their feet do not turn and the articulation is limited. However, the initial paint job and design is remarkable. As a series, the SofVi sets have seen 5 volumes and have incorporated 5 figures per set. Originally released as UFO Catcher prize figures, they are hard to come by but are some of the best and closest likenesses of these characters at the basic figure height of 5 inches. Volume 1 and Volume 5 showcase characters from the Vegeta Saga, while Volume 2 and Volume 3 incorporate characters from the Namek Saga, Captain Ginyu Saga, and Frieza Saga, and lastly, Volume 4's assortment involves characters from the Perfect Cell Saga.
Series
The following is a breakdown of all the characters included in the UFO Catcher SofVi miniature set in accordance.
Gallery
Community content is available under
CC-BY-SA
unless otherwise noted.