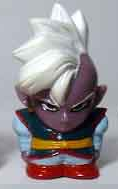 Dragon Ball Z SD are miniature finger puppet figurines released by Bandai in the early 1990s.
History
After the big surge of Keshi additions unveiled by Bandai, a series of finger puppet miniatures was released in the early 1990s incorporating some characters from the Perfect Cell Saga, Majin Buu Saga, and Broly- The Legendary Super Saiyan movie in accordance.
SD series
This additional SD series has incorporated a nice range of characters, allowing for a multicolor finger puppet figurine to fit onto the finger. The miniatures are rubberized and chibi in their initial design. Additionally, these same pieces were made available in a single color variant (being a blue or gold tone as a special variant) to be collected in three different formats: color, blue, or gold. These SD pieces are a unique addition by Bandai although they are rather hard to come by.
Series
The following is a breakdown of all the characters included in each SD miniature set installment in accordance:
Part 1: Piccolo, Super Saiyan Future Trunks, Perfect Cell, Super Saiyan Vegeta, Super Saiyan Goku, and Super Saiyan Gohan for a total of 6 pieces in the SD part 1 set.
Part 2: Kibito, Shin, Mr. Satan, Super Saiyan Kid Trunks, Videl, Great Saiyaman, Pikkon, Super Saiyan Goku with Halo, Piccolo, and Android 18 for a total of 10 pieces in the SD part 2 set.
Part 3: Super Saiyan Broly, Super Saiyan Goten, Super Saiyan Trunks, Super Saiyan Gohan, Super Saiyan Vegeta, and Super Saiyan Goku with halo for a total of 6 pieces in the SD part 3 set.
Gallery
Community content is available under
CC-BY-SA
unless otherwise noted.