This article is about the
real world.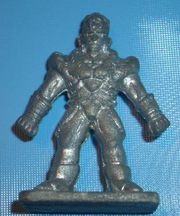 Dragon Ball Z Die Cast (特別な数字) are miniature collectible figurines standing on bases with a bronze, silver, or golden metallic touch released by Bandai.
History
After the big surge of Keshi additions unveiled by Bandai, a series of Die Cast figurines was released in the early 1990s incorporating some characters from the Androids Saga, Imperfect Cell Saga, Perfect Cell Saga, Cell Games Saga, Super Android 13 movie and Broly- The Legendary Super Saiyan movie in accordance.
Die Cast series
This additional Die Cast series has incorporated a nice range of characters, allowing for a single color figurine to be collected in three different formats: bronze, silver, or gold. These pieces are exclusive to the Die Cast sets and are limited in production. In addition to being a single metallic color, they are all seen standing on a rectangular base. The third installment to the Die Cast series is entitled "Hyper Die Cast."
Series
The following is a breakdown of all the characters included in each SP Figure set installment in accordance:
Part 1: Android 19, Dr. Gero, Piccolo, Future Trunks, Imperfect Cell, Android 16, Vegeta, Krillin, Android 18, Android 17, Super Saiyan Goku, and Super Saiyan Vegeta for a total of 12 pieces in the Die Cast part 1 set.
Part 2: Android 14, Android 15, Perfect Cell, Gohan, Vegeta, Super Saiyan Future Trunks with armor, Super Saiyan Future Trunks with sword, Super Saiyan Vegeta, Super Vegeta, Goku, Android 13, and Super Android 13 for a total of 12 pieces in the Die Cast part 2 set.
Gallery