Dragon Ball Z: Kakarot (ドラゴンボールZ KAKAROT Doragon Bōru Zetto Kakarotto) is an upcoming Dragon Ball video game developed by CyberConnect2 and published by Bandai Namco for PlayStation 4, Xbox One and Microsoft Windows via Steam set to be released in January 17, 2020. It is an Action Role Playing Game that will cover Goku's story as the player takes him through different iconic events in the Dragon Ball Z story, ranging at least from the start of the Saiyan Saga to the end of the Majin Buu Saga. This game will also feature remixed excerpts of Shunsuke Kikuchi's soundtrack from the original Japanese broadcast of the Dragon Ball Z anime. 
The game will add to character backstories, not included in the original manga/anime.[1][2] It will also include original characters designed by Akira Toriyama himself.
Gameplay
The game is an RPG fighting game somewhat similar to Dragon Ball Xenoverse and it's sequel. The game is not considered open world with one massive sandbox but instead divided into individual hubs that will be locked until reaching a certain point in the story, only then will these areas be unlocked for exploration. These individual hubs are not small and the openness of these areas gives all the more reason to have flight as a mode of travel with both the verticality and area being impressive. Some areas are full of life and cities whilst others are more barren and devoid of life. There are several mini-games including fishing and baseball. One of the game modes is called "Training Grounds" and allows players to face other characters in order to unlock or improve Super Attacks.
Cooking
Additionally the game includes a Cooking mechanic to create meals that can permanently boost stats and/or grant temporary buffs. Player's can eat raw foods, cook food themselves, or seek out various Cooks. Regular cooks can only prepare one dish at a time, but Chi-Chi can cook full course meals. Campfires allow the player's party to cook fish catch or the meat of animals that have been caught through hunting.
Animals can be hunted for their meat and fish can be catch through fishing. Other ingredients can be collected such as Apples from trees or River Shrimp by river banks. Some ingredients can only be purchased from Grocers which sell a variety of ingredients.
Soul Emblems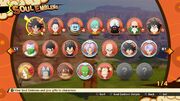 Acquire Soul Emblems as you progress through the Story or Sub Quests in Dragon Ball Z: Kakarot. Soul Emblems will activate different effects in the game.
Story
The primary storyline of Dragon Ball Z: Kakarot follows the events of the Raditz Saga through to the end of the Kid Buu Saga of Dragon Ball Z.
There are also several new storylines:
"The Mystical Member of the Ginyu Force": Goku discovers the Battle Data on Bonyu in the Ginyu Force space pod he is using, after getting back to Earth he has the data put into the Capsule Corp. Training Room and fights the Virtual Fighting Data of Bonyu.
"A Competitive Party with Friends": A story set just after Goku returns from Yardrat.
Characters
Other
New
Bosses
Enemies
Pre-Order Bonus and Editions
The Collectors Edition
The game
Collectable Steelbook
Hardcover Art Book
An exclusive diorama figure
The Season Pass (including two story missions) (UK only)
The Deluxe Edition
The game
The Season Pass (including two story missions)
+1 deluxe cooking item
The Ultimate Edition
The game
The Season Pass (including two story missions)
A deluxe cooking item
Music compilation pack with 11 additional songs
Tao Pai Pai Pillar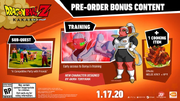 Pre-Ordering the game grants purchasers
The sub-quest "A Competitive Party With Friends"
Early access to Bonyu's training
Smiling Ultra Mega Roost cooking item that grants a permanent Melee ATK and HP stat boost
The Season Pass
Includes two story missions
Steaming-Hot Grilled Fish cooking item
Reception
Publication
Score
IGN
Game Informer
GameSpot
Edge Magazine
Review compilations
Metacritic
78% (based on 13 reviews)
Trivia
Gallery
References
↑ DRAGON BALL Z: KAKAROT WILL ADD TO CANON WITH NEW CHARACTER BACKSTORIES. IGN (June 26, 2019).
External Links