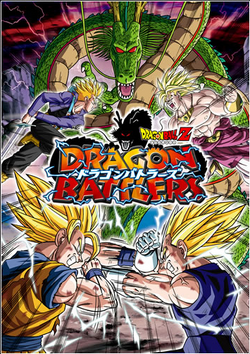 Dragon Ball Z: Dragon Battlers (ドラゴンボールZ ドラゴンバトラーズ, Doragon Bōru Zetto Doragon Batorāzu), renamed Dragon Ball Kai: Dragon Battlers when Dragon Ball Kai aired in Japan, is an arcade card-based fighting game developed by Dimps and released in June 2009. English and Japanese versions of this game exist.
Overview
Dragon Battlers features 61 characters based on characters from Dragon Ball Z. It was the first game to include Super Saiyan 3 Broly and Super Saiyan 3 Vegeta.
The game's main feature is having two characters use a team attack, such as Gotenks and Gogeta or Cell and Frieza.
The graphics are similar to those of Dragon Ball Z: Budokai 3 and Dragon Ball Z: Infinite World.
Playable characters
Goku (Base, Kaio-ken, Super Saiyan, Super Saiyan 2, Super Saiyan 3)
Kid Goku
Kid Goku (GT) (Base, Super Saiyan, Super Saiyan 3, Super Saiyan 4)
Kid Gohan (Base, Unlock Potential)
Teen Gohan (Base, Super Saiyan, Super Saiyan 2)
Adult Gohan (Base, Super Saiyan, Super Saiyan 2, Ultimate)
Great Saiyaman
Krillin (Base, Unlock Potential)
Vegeta (Base, Super Saiyan, Super Vegeta, Majin, Super Saiyan 3)
Vegeta (GT) (Base, Super Saiyan, Super Saiyan 4)
Future Trunks (Base, Super Saiyan, Super Trunks)
Kid Trunks (Base, Super Saiyan)
Trunks (GT) (Base, Super Saiyan)
Goten (Base, Super Saiyan)
Gotenks (Base, Super Saiyan, Super Saiyan 3)
Fat Gotenks
Vegito (Base, Super Saiyan)
Gogeta (Super Saiyan, Super Saiyan 4)
Majuub
Frieza (Base, 2nd Form, 3rd Form, Final Form, Full Power, Mecha)
Cooler (Base, Final Form)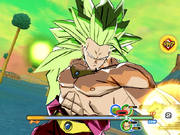 Broly (Super Saiyan, Legendary Super Saiyan, Super Saiyan 3)
Cell (Base, 2nd Form, Perfect Form, Power-Weight Form, Super Perfect Form)
Great Saiyaman 2
Super Buu (Base, Piccolo absorbed, Gotenks absorbed, Gohan absorbed)
Baby Vegeta (Super Baby Vegeta 2)
Nuova Shenron (Base, Second form)
King Piccolo (Old, Young)
Trivia
Gallery
External links