This article is about the
real world.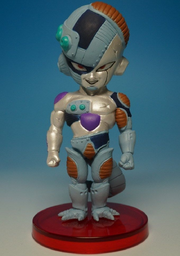 Dragon Ball World Collectable Figure (DWC) is a set of 260 figures around 7 cm tall produced by Banpresto, a subdivision of Bandai. There are 5 volumes encompassing characters from DB & 6 volumes including characters from DBZ. There are also 7 volumes for the Kai version releases and a new line for the 2013 movie. Additional series continued release after Dragon Ball Kai's Buu Saga was produced. The Dragon Ball Super assortment has also been announced to continue in the WCF format.
Overview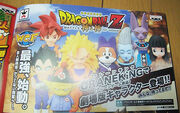 One of the most recent lines covers characters that make an appearance in the 2013 movie, Dragon Ball Z: Battle of Gods. They were first showcased during the 30th Prize Fair, which took place in Tokyo on November 7, 2012. This series is followed by volumes 3-4 of the Battle of Gods characters and preceded by Dragon Ball volumes 1-5, Dragon Ball Z volumes 1-6, and Dragon Ball Kai volumes 1-7 for a total of 176 figurines. Another 6-piece lineup paying tribute to the Dragon Ball Z anime was released in July, 2014 entitled "Memorial Parade." The most recent lineup encompasses characters from the Buu Saga and has a release date for January 2015, adding 6 more pieces to the previous total, allowing for a collection of 188 figurines in the full set. The following series sets were entitled the WCF [World Collectable Figure] and included characters from the Buu Saga as well as the Bardock exclusive special. An additional expansion to the WCF series was made in 2015 featuring the Revival of "F" movie, spanning three volumes and collecting an additional 18 pieces. The new 2015 Special Freeza Edition Series collects an additional 12 pieces as a tribute to the Frieza Saga. Additional assortments for the Dragon Ball Super lineup have also been revealed with 3 additional volumes of releases for the World Collectible Figure (WCF) series.
Gallery
Community content is available under
CC-BY-SA
unless otherwise noted.