Hello everyone! This is the subpage for the Dragon Ball Wiki's Manga Force, a group of users who are trying to get every single manga chapter in Dragon Ball a page with detailed summaries, with great grammar and, if there is any, cool trivia! If you wish to assist, please message one of the members!
Current team/roles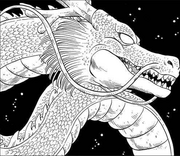 How to edit
A full manga chapter page should include (in this order):
Infobox - An example of a full infobox is:
Introduction - An example of a full introduction is: Goku Meets Cell is the three hundred seventy-fourth chapter of the Dragon Ball manga. In the Viz release, it is the one hundred eightieth chapter of Dragon Ball Z. This chapter's anime counterpart is the episode "Sacrifice".
Summary - This should accurately and concisely relay the events of the chapter. Make sure to use proper conventions in writing the summary, and stay accurate to each panel in the manga.
Major events - Short, one sentence descriptions of a major plot point, such as "Cell achieves his Perfect Form."
Appearances - With a sub-section for People, Places, and Objects, this section should include what appears in the chapter in order of appearance.
Battles - Any battles that appear in the chapter should appear here, such as "Goku vs. Frieza".
Trivia - Any extraneous or interesting information should go here.
References - Make sure to cite sources.
See also - Any other articles or information that may be helpful.
External links - Links to information outside of this wiki.
Categories - The categories that the article can be placed in, such as "Dragon Ball Z" or "Manga Chapters".
Chapters that need pages
If you find chapters that need pages, please place them here with bullet points!
You can find a complete list of manga chapters here. Any red links on that page have not been made into a page yet. Additionally, many manga chapter pages are stubs, which may require expansion.
Chapter stubs
Please link them here in bullet points!
Community content is available under
CC-BY-SA
unless otherwise noted.