m

Line 40:
Line 40:
 

*As of the [[The Miraculous Conclusion! Farewell, Goku! Until We Meet Again!|last episode]] of the [[Universe Survival Saga]], it and the movie shares the same tagline which is "Saiyans have no limits".

 

*As of the [[The Miraculous Conclusion! Farewell, Goku! Until We Meet Again!|last episode]] of the [[Universe Survival Saga]], it and the movie shares the same tagline which is "Saiyans have no limits".

 

*This will be the first ''Dragon Ball'' movie to fall under the lineup of ''[[Dragon Ball Super]]'', as ''[[Dragon Ball Z: Resurrection 'F']]'' and ''[[Dragon Ball Z: Battle of Gods]]'' were marketed under the ''[[Dragon Ball Z]]'' lineup, prior to the announcement of ''Dragon Ball Super''.

 

*This will be the first ''Dragon Ball'' movie to fall under the lineup of ''[[Dragon Ball Super]]'', as ''[[Dragon Ball Z: Resurrection 'F']]'' and ''[[Dragon Ball Z: Battle of Gods]]'' were marketed under the ''[[Dragon Ball Z]]'' lineup, prior to the announcement of ''Dragon Ball Super''.

 
+

*This marks [[Broly]]'s true canonical debut.

 
 
 

==Gallery==

 

==Gallery==
---
Revision as of 11:18, 10 July 2018
Dragon Ball Super: Broly is the 20th Dragon Ball movie.[1] It is the first Dragon Ball Super movie.
Overview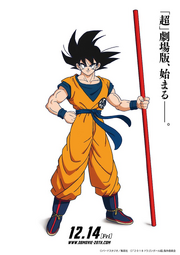 The original series author Akira Toriyama once again provides the original concept, writing the script, and drawing character designs for the film. His involvement in this movie is more active than previous movies.[1]
The film will explore the origins of the Saiyans[1] and Frieza. It will also involve the story after the Tournament of Power.[2]
It was suggested to Akira Toriyama by his editor to have Broly appear in the movie. After watching the previous Broly movies, Toriyama decided that Broly could be quite interesting if he arranged some things about him.[3]
While keeping the original Broly, Toriyama stated that he added a new side of his character and thought it will be a more fascinating Broly. The story also was also said to revolve to a larger scale and very dramatic.[4]
Timeline placement
According to Akira Toriyama, this movie takes place after the climax of the Tournament of Power.[5]
Trivia
Gallery
References
External links