This article is about the
real world.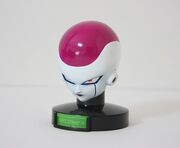 Dragon Ball Kai Genealogy of Freeza (フリーザの系譜) also known as the Mask Collection Lineage of F (マスクコレクション Fの系譜) is a head-sculpt bust set dedicated to Frieza and his primary military commanders and mercenaries released in 2010 by Bandai.
History
Corresponding with the new Dragon Ball Kai release, A very unique set unveiled by Bandai in 2010 is the "Mask Collection Lineage of F" series (also known as the "Genealogy of Freeza"), which portrays the sculpted heads of Frieza and his forces in a statuesque manner. Two versions of each character in this set are available; one colored version, and one completely black version with sinister red eyes. The busts in this series are highly detailed and are likely the best representation of these evil military tyrants in terms of a facial sculpt, along with their signature genuine scouters and very remarkable and meticulous design. The base is a neon green reminiscent of a scouter's tracking unit and portrays the character's name in solid neon highlights. These collectible statuettes are some of the absolute most highly detailed and very thorough in its initial construct and replication, staying true to the original look and feel of the manga and anime alike.
The other version of Bandai's 2010 release of the "Mask Collection Lineage of F" is the black variant. All characters in this set are featured with a completely black paint job and a very distinguishing detail: they all have piercing red eyes. This is likely to signify the evil aspect of the characters and makes for a great addition to any collection. The only differential in this set from the color version is that the character of King Cold is limited to the color version as a special chase piece.
Series
The following is a breakdown of all the characters included in the "Genealogy of Freeza" set in accordance:
Color Version: Frieza Form 1, Frieza Form 2, Frieza Form 3, Frieza Form 4, Cyborg Frieza, Zarbon, Dodoria, Jeice, Burter, Recoome, Guldo, Captain Ginyu, and King Cold
Black Version: Frieza Form 1, Frieza Form 2, Frieza Form 3, Frieza Form 4, Cyborg Frieza, Zarbon, Dodoria, Jeice, Burter, Recoome, Guldo, and Captain Ginyu
Gallery