This article is about the
real world.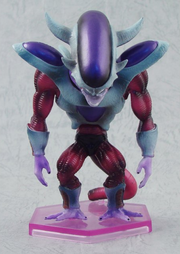 Dragon Ball Kai Freeza's Force (フリーザのフォース) is a collection of figurines limited to and encompassing Frieza's military, henchmen, and mercenaries as a genuinely unique set dedicated to these villains and released by sub-division Banpresto in 2010.
History
After the initial release of Dragon Ball Kai, a few figurine sets compiled of 4 Volumes were released in conjunction with the newly redone series. Each volume has an installment of 5 figurines added to the repertoire. A genuine collection offered by Banpresto it includes almost all of Frieza's military regiment along with his remarkable spaceship. Some figures in this set are only available as a part of this series and are extremely rare. Each figurine comes atop a hexagonal transparent base that allows for better positioning and clarifies that they are a part of this set. The first two volumes were released on February 4, 2010, followed by the third and fourth volumes, which were released on May 25, 2010. The complete set has 20 figurines with unique boxart and the character numeric depicted on the box front.
Additionally, a very unique model of Frieza's Spaceship was made available along with the figurine releases. This massive ship was detailed heavily with purple, white, and yellow spherical attributions and brought to life in a majestic format, sitting perfectly as an additional atmosphere piece. Also, two versions of the spaceship were made available, once as the original coloring scheme and another as the special color version, which adds even greater shading, shadows, and outlining to the initial construct of the ship. The boxart for the original spaceship depicts Frieza in his first form, while the special color version depicts Frieza in his final form as an alternate packaging differential.
Series
The following is a breakdown of all the characters included in the Freeza's Force figurine set in accordance:
Gallery