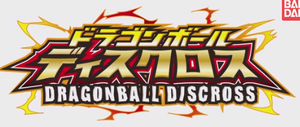 Dragon Ball Discross (ドラゴンボール ディスクロス, Doragon Bōru Dhisukurosu) is a Japanese arcade game, released in 2014 in Japan. The game allows the usage of many characters from the Dragon Ball series.[1]
It has a manga named Dragon Ball Discross Jinryoku God Max!!.
The arcade game functions with special Gashapon discs (sold at convenience stores), which give access to playable characters and special attacks in-game.
A Scouter headset is also available for sale. When used with the Scouter, the discs feature three different modes: Rising Cross, Full Throttle, and Battle mode. For Rising Cross mode, by inserting a disc into the ear portion of the headset, the user can hear spoken lines from the character printed on the disc; pressing a button on the Scouter enables different lights and sounds. A secret voice can be heard when using Full Throttle mode, whereas in Battle mode the discs can be used for a special battle game. The headset comes in both red and purple colors. Special sets of discs have also been released to access further voices on the Scouter.
Characters
Playable characters
Kid Goku
Goku (Base, Spirit Bomb, Super Saiyan, Super Saiyan 2, Super Saiyan 3, Super Saiyan God, Super Saiyan 4, Super Saiyan Blue, Golden Great Ape)
Teen Gohan (Super Saiyan 2)
Adult Gohan (Super Saiyan, Ultimate)
Vegeta (Super Saiyan, Super Saiyan 2, Majin, Super Saiyan Blue, Super Saiyan 4, Great Ape)
Future Trunks (Super Saiyan)
Adult Trunks (Base, Super Saiyan, Super Saiyan 2)
Kid Trunks (Super Saiyan)
Goten (Super Saiyan)
Gotenks (Base, Super Saiyan, Super Saiyan 3)
Vegito (Super Saiyan)
Gogeta (Super Saiyan, Super Saiyan 4)
Jackie Chun
Bardock (Base, Super Saiyan)
Frieza (First Form, Second Form, Third Form, Final Form, Golden)
Mecha Frieza
Cell (First Form, Perfect, Super Perfect)
Super Buu (Base, Gotenks Absorbed)
Cooler (Final Form)
Broly (Super Saiyan, Legendary Super Saiyan)
Other characters
Unnamed boy
Unknown villain
Gallery
References