Dragon Ball: Episode of Bardock

Dragon Ball: Episode of Bardockドラゴンボール エピソード オブ バーダックDoragon Bōru: Episōdo obu Bādakku

Genre
Shōnen, Action, Adventure, Fantasy, Science Fiction, Bangsian Fantasy

Manga Series: Dragon Ball: Episode of Bardock

Authored by
Publisher
Serialized in
Original run

June 21, 2011 – August 21, 2011
Dragon Ball: Episode of Bardock (ドラゴンボール エピソード オブ バーダック, Doragon Bōru: Episōdo obu Bādakku) is a three-chapter manga created by Naho Ooishi, and that was adapted into an anime. It is based on the video game Dragon Ball Heroes, and features a scenario taking place after the events of the TV special Dragon Ball Z: Bardock - The Father of Goku, in which Bardock survives the destruction of Planet Vegeta and is sent into the past, combating Frieza's ancestor Chilled, and turning into a Super Saiyan.
According to its author, Episode of Bardock is a what-if scenario,[1] however it has been included as part of the overall timeline a few times.[2][3]
It later received an OVA adaptation.
History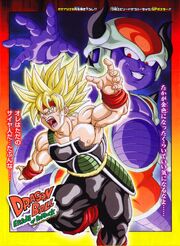 The first chapter was published on June 21, 2011, in V-Jump, the second chapter was published on July 22, 2011, and the final chapter was published on August 21, 2011. Chapters of Episode of Bardock were later also published in the 2011 summer edition of Saikyō Jump. On November 21, 2011, it was announced in V-Jump that the three-part manga would be given an anime adaptation as part of the Dragon Ball SSSS project. This anime adaptation debuted at Jump Festa in December 2011, was streamed online for a short period of time, and was featured on a bonus DVD packed with the March 2012 issue of Saikyō Jump. The three chapters are reprinted in the April 2012 issue of V-Jump along with two brand new page entries, and collected into a single "Super Kanzenban" volume offered with the Saikyō Jump issue in February 2014.
Story arcs
Chilled Saga (chapter 1 - 3)
Chapters
Timeline placement
Episode of Bardock is shown to be a sequel to Bardock - The Father of Goku, as the opening part of the animation is Frieza destroying Planet Vegeta with his Supernova and Bardock trying to stop him. Bardock is then sent far back in time, to before the Saiyans had arrived on Planet Vegeta, and the rest of the animation takes place at this point in time.
The sections occurring in the past happen before the Saiyans arrived on Planet Plant, at some point around 1104 Before Age.[4]
Battles
Bardock vs. Frieza
Bardock vs. Tobi and Cabira
Bardock vs. Chilled's soldiers
Bardock (Base/Super Saiyan) vs. Chilled
Trivia
This is the only manga/anime in the series in which Goku does not appear, although he does appear on the poster.
In one of the promotional posters, Bardock's tail as Super Saiyan changes its color but in the OVA, the tail remains in its natural color.
Bardock's former teammates make cameo appearances in both the anime and manga of the Episode of Bardock when Bardock thinks about when he found their dead corpses though curiously in the manga version of this cameo, Tora's corpse is not seen.
Gallery
References