Directory: Characters → Earthlings
Dr. Collie (コリー博士, Korī Hakase) is a scientist in Dragon Ball Z: Bio-Broly.
Biography
Dragon Ball Z
Bio-Broly
Main article: Dragon Ball Z: Bio-Broly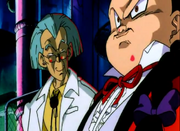 Dr. Collie is a scientist working for Lord Jaguar, who leads the program of the Bio-Warriors, including Bio-Broly, to defeat Mr. Satan. He gets Broly's blood sample from Maloja. His laboratory is on a remote island, in Mei Queen Castle, with tons of advanced technological devices destined to create Bio-Warriors to the people that would pay more.
Dr. Collie is rescued by Goten and Trunks and assumes there is no way to stop the bio-regeneration fluid until seeing water touch it.
Voice Actors
Trivia
Dr. Collie and his assistant Nain, are both named after the Japanese word korinai (懲りない), meaning "stubborn". Their names, together with Hei and Men-Men, are a reference to the Jōji Abe novel Hei no Naka no Korinai Men-Men.
Dr. Collie's English name resembles the word "collie", which is a dog breed. The latter was possibly changed to be such to fit with his employer's English name, which has a similar animal-related origin.
Gallery