This article is about the
real world.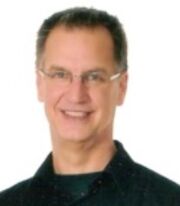 Doug Parker (born December 17, 1957) is a Canadian voice actor and voice director. He has been doing voices in several cartoons and anime, working with Ocean Productions to dub Dragon Ball and Dragon Ball Z.
Biography
Doug Parker voiced Turtle, Shu and Shenron in Dragon Ball, and voiced Mez and Blueberry in Dragon Ball Z. Scott McNeil would initially replace him as Turtle in Z from "The Arrival of Raditz" to "Gohan's Metamorphosis", as well as in The World's Strongest, but Parker returned to the role in "Trouble on Arlia".
Some of his other roles include Mega Man in Captain N: The Game Master, Terrorsaur and Starscream in Transformers: Beast Wars, Prince Adam in The New Adventures of He-Man, Shredder in Ninja Turtles: The Next Mutation, and Tidal Wave in Transformers: Armada and Energon.
His work as a voice director includes In Search of Santa and Devil Kings.