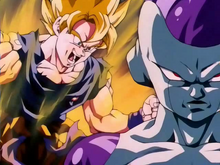 Don't You See! is the second ending theme for Dragon Ball GT. It is used from the Baby Saga until the beginning of the Super 17 Saga (episodes 27~41). The song is performed by Zard (Izumi Sakai's band). The lyrics were written by Izumi Sakai, the music was composed by Seiichirō Kuribayashi, with arrangement from Takeshi Hayama. FUNimation Entertainment dubbed this song for the second season Dragon Ball GT Box set.
Lyrics
Japanese
Tomodachi ni tegami wo kaku toki mitai ni
Surasura kotoba ga detekureba ii no ni
Mou sukoshi otagai wo shiriau ni ha jikan ga hoshii
Uragiranai no ha kazoku dake nante
Sabishisugiru yo love is asking to be loved
Shinjiru koto wo yameteshimaeba raku ni narutte wakatteru kedo

Don't you see! negattemo inottemo kiseki omoide
Sukoshi ha ki ni kakete
Don't you see! chotto sameta furi wo suru kuse ha
Kizutsuku no ga kowai kara

Taxi noriba de matteta toki no chinmoku ha
Tatta gofun nano mono sugoku nagaku kanjita
Muri wo shite tsukarete aozameta koi ha yoki senu dekigoto

Don't you see! chiisana kenka de
Makezu kiraina futari dakara hotto shita no
Don't you see! ironna hito wo miru yori
Zutto onaji anata wo miteitai

Don't you see! I'll never worry, tonight.
I'll lay me down, tonight.
You know, I do it for you.

Don't you see! umareta machi no nioi
Kurekakaru gairoju wo futari arukeba
Don't you see! sekaijuu no daremo ga donna ni isoidemo
Watashi wo tsukameteite
FUNimation English Lyrics
When I see your smile, I can't find the right words to tell you
It's like I'm writing a letter to a long-lost friend again
Always thought there'd be more time to hold you in my arms, and never let you go
I hope you never forget the ones you care for need you
I know it all seems hopeless; love is asking to be loved
Sometimes, I sit and think that maybe giving up now would be much better, and put my mind at ease

DON'T YOU SEE? see that even when you're gone, I pray I get to see you one more day
I still worry about you
DON'T YOU SEE? I know the world keeps spinning round whenever you are feeling down
Hang on: I'll be there
Trivia
Izumi Sakai, the singer for this ending, died on May 27, 2007 from head injuries after falling 3 meters down a slippery fire escape at Keio University Hospital, where she was undergoing chemotherapy for cervical cancer.
Errors
Community content is available under
CC-BY-SA
unless otherwise noted.