Davide Garbolino (Cirie, September 24, 1968) is a voice actor, dubbing director and television presenter Italian. It is known for its a fresh and youthful voice, which allows him, even as an adult, to pay so likely the voice of young characters (and even children) as Ash in Pokémon, Nobita in Doraemon, Son Gohan in Dragon Ball, Shinichi Kudo in Detective Conan and Kaito Kuroba / Kaito Kid in Magic Kaito 1412.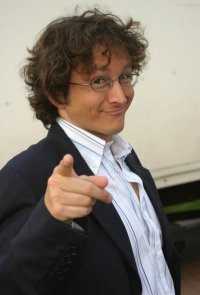 After entering nell'ADAP, he has carried out its activity of dubbing predominantly in the studies of Milan, and in particular to the Merak Film. He works in Milan and Rome. In addition to dubbing, has to his credit conducting programs on Italy 1, as Hello Hello, with colleagues Debora Magnaghi and Pietro Ubaldi, in which he voiced the puppet "Four" from 1992 to 2000. He has worked, among others, even with Paola Tovaglia that, before he died, was at the head of Hello Hello 1989-1991 of  Italia 1.
Voiced mainly of cartoons and television series, it is most famous for having voiced the late '80s, Kyōsuke Kasuga, the protagonist of the Anime is Orange Road one of the most popular series of the same era and still is mainly known as the voice of Ash Ketchum, the character of the anime Pokémon, which is the longest among those he dubbed and Shinichi Kudo in Detective Conan. He also voiced the character of Jean in the anime The Secret of Blue Water on two occasions: in 1991 (Mediaset) and in 2003 for the complete edition on DVD. He was also the voice actor of the character of Sam 'Servo' Collins, star of the series Superhuman Samurai.
From him the Plucky Duck voices in Tiny Toon Adventures, Timothy in Tazmania, Michelangelo in Ninja Turtles, Robin in Batman, Gohan adult in the animated series Dragon Ball Z and Dragon Ball GT and Nobita in Doraemon .
It is also active at the Emme studio in Rome, especially in the role of Bugs Bunny, which is the official Italian entry from 2007 in place of Massimo Giuliani.
Community content is available under
CC-BY-SA
unless otherwise noted.