This article is about the
real world.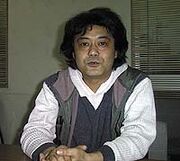 Daisuke Nishio (西尾大介; born on April 1, 1959, in Miyoshi, Hiroshima) is a Japanese director and animator who works for Toei Animation. He worked on Dr. Slump, Dragon Ball and Dragon Ball Z, and has directed several Dr. Slump, Dragon Ball and Dragon Ball Z films.
Biography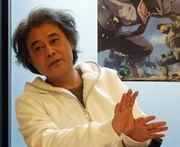 After attending the Ritsumeikan university, Daisuke Nishio joined Toei Animation in 1981. After doing several TV series, he was promoted to assistant director for Dr. Slump in 1982 and continued the job for Dragon Ball and Dragon Ball Z.
Nishio debuted as film director with Dragon Ball: Curse of the Blood Rubies. He also directed Dragon Ball: Sleeping Princess in Devil's Castle, Dragon Ball Z: Dead Zone, Dragon Ball Z: The World's Strongest, Dragon Ball Z: The Tree of Might, Dragon Ball Z: The Return of Cooler, Dragon Ball Z: Super Android 13!, Dragon Ball Z: The History of Trunks, and was a supervisor for Dragon Ball Z: Cooler's Revenge (which was directed by Mitsuo Hashimoto). Daisuke Nishio is last credited for Dragon Ball Z in the episode "Goku vs. Pikkon", which first aired on September 1, 1993. He later worked on the 1997 Dr. Slump remake.
Daisuke Nishio also worked on the other anime series Air Master, Crying Freeman, Aoki Densetsu Shoot!, Futari wa Pretty Cure, Gegege no Kitarō, Akira Toriyama's Go! Go! Ackman, Halo Legends, Kindaichi Shounen no Jikenbo, One Piece, Patalliro!, and RoboDz.
Gallery
External links