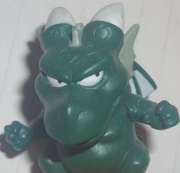 There are currently a total of 2 Cymbal collectibles that have been released by numerous companies to date. A gallery and the attached information appends to the official releases and genuine specifics in regards to the additional merchandise pertaining to each release.
Unifive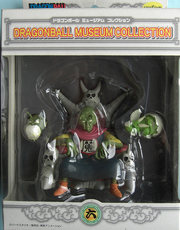 Museum Collection series
Release date: 2003
Unifive was an independent toy company until it was bought by toy giant Bandai in 2001. It was run as a subsidiary of Bandai-owned Banpresto until 2006. The "Museum Collection" series would be a great highlight of Unifive's involvement with the Dragon Ball franchise. Released in December, 2003, King Piccolo was a remarkable addition to the Museum Collection series. These diorama sets came with extreme meticulous detail and with additional environmental features, which in this case was King Piccolo's chair. Aside from the detail placed on the chair itself and King Piccolo's overall sitting position, he also came with a miniature Cymbal as a newborn hatchling. Cymbal is also highly detailed for a miniature piece, especially placing impression on his egg cracking around him and his scaly skin and horns protruding through the cracks.
Plex

Dragon Ball Anime Heroes series Part 2
Release date: 2007
Plex has released an assortment of basic figures in the "Mini Big Head" style. Released in October 2007, this assortment, entitled "Anime Heroes" Part 2 has a wide variety of characters, including Cymbal. This Cymbal mini figure comes with a basic stance, with both hands raised to his sides as he prepares to pounce. The mini figurines in this set go for a rather adorable and cute look and stand at about 4.5 cm (1.7 inches).
Gallery
Community content is available under
CC-BY-SA
unless otherwise noted.