Cross Epoch

Cross Epochクロス エポックKurosu Epokku

Genre
Adventure, Comedy, Martial Arts, Science Fiction

Manga Series: Cross Epoch

Authored by
Publisher
Serialized in
Original run

December 25th 2006 – December 25th 2006

No. of volumes

One-Shot
Dragon Ball x One Piece: Cross Epoch (クロス エポック, Kurosu Epokku) is a Japanese manga by Akira Toriyama and Eiichiro Oda. It is a crossover between their respective Dragon Ball and One Piece series. Cross Epoch was released on December 25, 2006 in the 2007 #4/5 issue of Weekly Shōnen Jump, and it later appeared in the April 2011 issue of the English Shonen Jump (issue #100).
Summary
Shenron, who has just granted Mr. Satan's wish to become a king, has invited his friends over for a little tea party on an island filled with giant desserts. The various characters from their respective series are trying to make their way to the party. Some of the characters are changed physically and in place, such as Krillin and Chopper being conductors of a roller coaster, Bulma and Nami being thieves, Master Roshi and Sanji being police officers, Vegeta having horns and being the captain of a pirate crew, or Piccolo being a swordsman with Roronoa Zoro. They encounter obstacles such as the Pilappaggy Villain Union along the way, but they all make it to the party in the end.
Characters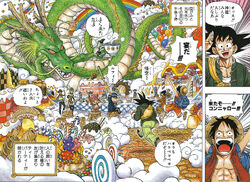 Pairings
Other characters
Trivia
Gallery
External links