This article is about the
real world.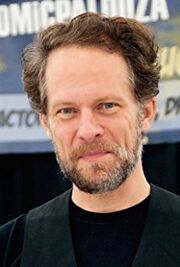 Charles Cody Huber (born May 8, 1971, in Chicago, Illinois) is an American voice actor, ADR director, and writer who voices Emperor Pilaf, Garlic Jr., Android 17, Android 13, Kibito, Mr. Shu and some additional characters in the Funimation dub of Dragon Ball.
Notable roles
Crayon Shin Chan - Hiro/Harry Nohara
Fullmetal Alchemist - Shou Tucker
Fullmetal Alchemist: Brotherhood - Shou Tucker
Hetalia Axis Powers - Austria
Initial D - Yuichi Tachibana
One Piece - Mohji, Koshiro
Parappa the Rapper - Chop Chop Master Onion
Sengoku Basara: Samurai Kings - Maeda Toshiie
Sgt. Frog - Kululu
Soul Eater - Dr. Franken Stein
The Tower of Druaga - Melt
Yu Yu Hakusho - Hiei
"Boku No Hero Academia" - Kurōgiri
Trivia
Outside of Funimation, Chuck Huber also did the voice for Marvel's Iron Man in ScrewAttack's hit webshow DEATH BATTLE.
Community content is available under
CC-BY-SA
unless otherwise noted.