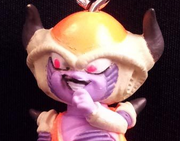 There is currently a total of 1 Chilled collectible that has been released to date. A gallery and the attached information appends to the official releases and genuine specifics in regards to the additional merchandise pertaining to each release.
Bandai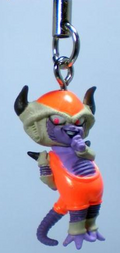 Ultimate Deformed Mascot Series 3
Release date: 2012
A nice addition by Bandai is the Ultimate Deformed Mascot Phone Strap series part 3 which was released in March, 2012. The figurines in this set stand at about 3 cm (40mm) and Chilled is included in this set, smirking and holding his hand in front of his lips as his other arm rests behind his backside. His snickering expression is very unique, whilst maintaining an evil glare although he is designed in a chibi format. All the figures included in this set come with their chains, which are intended to be used as phone straps or for other attachment accessories. Others included in this series are Meta-Cooler, Super Saiyan Vegeta, Vegeta, Goku, and Super Saiyan Broly.
Gallery
Community content is available under
CC-BY-SA
unless otherwise noted.