This article is about the
real world.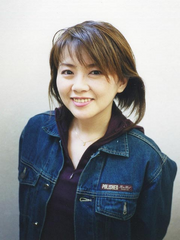 Chieko Honda (本多 知恵子; March 28, 1963 – February 18, 2013) was a voice actress from Nagano.
Biography
She worked as a voice actress since the 1980s. During her life, she was attached to Tokyo Actor's Consumer's Cooperative Society and Mix Max. Later, at the time of her death, she was attached to Aoni Production. Her hobbies were driving, game, reading, skiing, table tennis.
Chieko Honda voiced Pochawompa in Dragon Ball. Although she only has a small role in Dragon Ball, she was a very successful actress who has had major roles in many different animes, including Sailor Moon S and Ys. Her notable roles include Elpeo Ple and Ple Two in Mobile Suit Gundam ZZ, Meroko Yui in Full Moon wo Sagashite, Nami Yamigumo in Silent Möbius, Tellu in Sailor Moon S, Kozue Kaoru in Revolutionary Girl Utena, Kurumi Kasuga in Kimagure Orange Road, Natane (Gardenia in the English version) in the Pokémon Diamond & Pearl anime and the title character in Floral Magician Mary Bell. The one-off character Chieko Honda in Oh My Goddess! was reportedly named after her, and she went on to play this character in the anime adaptation. She also played Elena Ivanova in Vanquish, and Elpeo Puru & Puru Two in SD Gundam G Generation Spirits.
On February 18, 2013, Chieko Honda passed away at a local hospital while undergoing treatment for multiple forms of cancer, which proved ineffective in stopping the spread of the aggressive cancers. She was 49 years old.
External links
Community content is available under
CC-BY-SA
unless otherwise noted.