Champion Belt[1] (チャンピオンベルト) is Mr. Satan's World Martial Arts Tournament champion belt.
Overview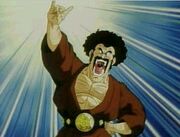 Mr. Satan won this belt in the 24th World Martial Arts Tournament after beating Spopovich in the final round.[2] He usually wears it around his waist, as seen in both Dragon Ball Z and Dragon Ball GT. When it first appeared, in the Cell Games Saga, the belt had an eagle depicted on it, but later, in the World Tournament Saga, a bat replaces the eagle. In Dragon Ball Z: Battle of Gods, it is a star that is depicted on the belt.
Video game appearances
The Champion Belt is seen in the arcade game Dragon Ball Z 2: Super Battle, lifted by Mr. Satan at the beginning of battles, as well as at the end if he wins the match.
It appears as item in Dragon Ball Z: Legendary Super Warriors. It is Hercule Exhibit #2 in Dragon Ball Z: Buu's Fury, called Championship Belt.
The Champion Belt appears as an equippable item in the Raging Blast fighting game series. When equipped, the amount of D-Points the user receives after a battle is magnified, giving more than it not being equipped. In order to receive the item, the user must acquire the Dragon Balls and summon Shenron to make a wish for it.
The Champion Belt is in Stage 5 of Dragon Ball Kai: Ultimate Butōden.
Gallery
References