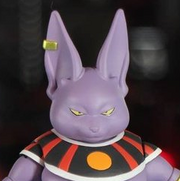 There are currently a total of 4 Champa collectibles that have been released by numerous companies to date. A gallery and the attached information appends to the official releases and genuine specifics in regards to the additional merchandise pertaining to each release.
Bandai
Dragon Ball Super UDM Burst Volume 16
Release date: 2016
The Ultimate Deformed Mascot series Volume 16 is set for a late January, 2016 release date. This set includes five additional pieces and features Super Saiyan Goku, Super Saiyan God Super Saiyan Vegeta, Super Saiyan 3 Xeno Bardock, Champa and Piccolo. Aside from portraying Champa with a confident stance with one hand resting against his side, this is the first UDM Champa piece to be released. All the figures included in this set come with their chains, which are intended to be used as phone straps or for other attachment accessories.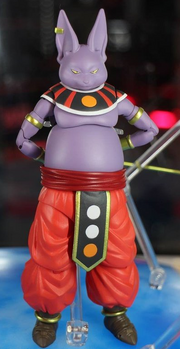 Dragon Ball Z S.H. Figuarts Figure Series
Release date: 2016
Scheduled for release in 2016, Tamashii Nations has revealed Champa in its 2015 showcase as a part of the S.H. Figuarts lineup. Similar to previous pieces offered in this lineup, the figure will be including a great amount of accessories and spectacular articulation. The Champa action figure has extensive articulation around his arms and legs as well as coming with his additional accessories. Not unlike the other S.H. Figuarts pieces but with heavy additions, Bandai offers a very strong assortment of extra hands, heads, and feet. This is another highly detailed S.H. Figuarts piece that aids in conveying the very mannerism and characteristics that Champa embodies. Also revealed at the same showcase was a Vados figure for the same lineup.
Banpresto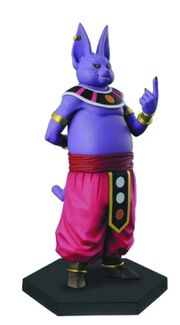 Dragon Ball Super DXF Figure
Release date: 2016
The upcoming DXF Figure lineup for Dragon Ball Super was revealed and features Champa in its assortment. This figurine is set for a June 29, 2016 release. The Champa figurine is seen holding up a finger and his arm kept behind his back as he holds a distinct smiling expression. The detail is exquisite for a DXF Figure piece, from his ears to his eyes and the very folds of his pants. Also included in this same assortment is Goku.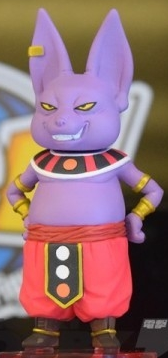 Dragon Ball Super WCF Vol. 1
Release date: 2016
This upcoming WCF DB Super volume 1 series is to incorporate a few characters appearing in the newly introduced series and Champa is included in this volume 1 installment. This set is scheduled for release in February, 2016. Those included in this set are Vados, Vegeta, Goku, Champa, Shin, and Kibito. Each piece comes with a unique packaging and is highly detailed for this exceptionally limited exclusive scenario set. Champa is seen smiling and maintaining both hands against his waist.
Gallery
Community content is available under
CC-BY-SA
unless otherwise noted.