Directory: Characters → Filler characters → Tournament fighters
Caterpy is a caterpillar-like alien that fought in the Other World Tournament.
Biography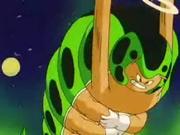 Caterpy is a fighter from the South Quadrant of the universe. Caterpy is actually not very strong and he tries to get Goku to give up by tickling him to everyone's exasperation. (Olibu remarks, "South Quadrant must be a very peaceful place.") After Goku hits him, he further displays his weakness by whining about it. Caterpy then attempts to go into his pupa state. As South Kai explains to Goku and the crowd, Caterpy would morph into his ultimate form upon hatching. However, the cocoon would take 1,200 years to hatch, so Grand Kai declares Goku the winner by default.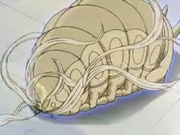 Techniques
Eye Flash – Caterpy releases a bright flash of light.
Mystic Attack – Caterpy has the ability to extend his arms.
Chico Torture – Caterpy catches his opponent with his multiple arms and tickles him or her.
Metamorphosis – Caterpy encasts himeself into a cocoon to morph into his ultimate form.
Video game appearance
Trivia
Caterpy's name is similar to that of the Pokémon, Caterpie. However, the episode where Caterpy appear was originally aired a year before Pokemon was created.
It is possible that Caterpy was murdered by Broly, due to the fact that most of the South Galaxy (evident by Caterpy's mentor being South Kai) was destroyed by Broly in Dragon Ball Z: Broly - The Legendary Super Saiyan.
Caterpy is due to hatch in Age 1967.
Gallery