This article is about the
real world.
龙珠 is the Cantonese dub of the Dragon Ball Z anime airing in Hong Kong and Macau.
Dragon Ball
The Cantonese dub of DB aired on February 21, 1988 on morning until March of 1989 due to low ratings. Until September of 1989 the series aired on TVB's afternoon kids block called "Flash Fax" with censorship. The series ended in September 6, 1990.
Dragon Ball anime were the one of the two first cartoon to be aired on the block.
Dragon Ball Z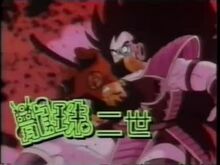 The series name in Hong Kong and Macau is "龙珠2世" (Translated in English as "Dragon Ball 2nd Generation")
In October 6, 1991, the Cantonese dub of DBZ were aired on TVB's afternoon kids block called "Flash Fax" until June 21, 1997, with all of the episodes dubbed. Due to in fact that the series aired on afternoon, some scenes were cut either due to violence or etc. Also, the episodes were cut into 15 minutes.
Also known as 龙珠二陪.
Dragon Ball Z Kai
It is unknown if the Cantonese dub of Kai were aired in Hong Kong or not. However, unlike in Japan, the Cantonese dub only aired in J2 and reached the end of the Cell Games Saga at episode 98.
Dragon Ball Super
In mid-late 2010s, the Chinese-Cantonese dub of Dragon Ball Super, named 七龍珠超, were available in Taiwanese and Hong Kong streaming media such of iQIYI and ViuTV.
Voice Actors
Goku - Lu Su Juan (child, DB), Xie Jie Zhen (child, DB replacement), Lin Guoxiong (DBZ), Guan Ling Qiao (adult, DB replacement and Kai)
Gohan - Lin Yuanchun (child), He Guoxiong (adult; teen in 9th movie), Ciao Chi-Chang (child, remastered old movies re-dub, Kai and new movies)
Cell - Lu Kwok Kuan
See also
Community content is available under
CC-BY-SA
unless otherwise noted.