Cabira (キャビラ, Kyabira) is a warrior who works for Chilled. His first and only appearance was in Dragon Ball: Episode of Bardock.
Appearance
While in the manga version Cabira seems to have gills in his shoulders and legs, in the anime adaption Cabira looks more like a reptile.
Biography
Background
Cabira was a soldier of the Chilled who existed far in the past. At one point he and Toobi attacked Planet Plant on Chilled's orders.
Other Dragon Ball stories
What-if scenarios
Episode of Bardock
Main article: Dragon Ball: Episode of Bardock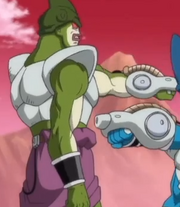 Cabira is sent to Planet Plant along with his comrade Tobi to conquer it. However, Bardock, who is on the planet, kills Cabira with a roundhouse kick to his face (manga version) and kills Tobi shortly afterward. In the anime adaptation, Cabira is killed with one powerful punch to his stomach instead of a roundhouse kick.
Techniques and Special Abilities
Equipment
Arm Cannon – A beam attack blaster weapon. Used in the anime version of Episode of Bardock and Dragon Ball Z: Dokkan Battle only.
Video Game Appearances
Cabira makes his debut in a video game in Dokkan Battle, where he appears as a non-playable boss.
Voice Actors
Japanese: Kazuyuki Ishikawa
Battles
Films
Trivia
Cabira's name is a corruption of the Japanese pronunciation of "caviar" (キャビア, kyabia).
Gallery