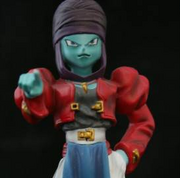 There are currently a total of 2 Bujin collectibles that have been released to date by numerous companies. A gallery and the attached information appends to the official releases and genuine specifics in regards to the additional merchandise pertaining to each release.
Bandai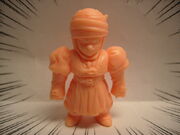 Part 20 Keshi Set
Release date: 1993
This miniature Part 20 Keshi set has included a few of the characters from the Dragon Ball Z movies, including Bojack Unbound and Broly movies. It has also included some characters from the Perfect Cell Saga and Cell Games Saga. One of Bandai's Keshi series, it has included characters such as Kogu, Zangya, Bujin, Bido, Bojack, 5 variants of Super Saiyan Gohan, 2 variants of Goku, Super Saiyan Goku, 5 variants of Vegeta, 4 variants of Future Trunks, Perfect Cell, Semi-Perfect Cell exploding, a Cell Jr., 3 variants of Broly, Mr. Satan, Yamcha, Tien, Krillin, Android 18, and 2 variants of Super Saiyan Gohan in mini chrome with bases (one bronze and one silver) for a total of 35 pieces in this Part 20 assortment.
Model Kits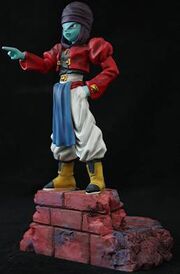 Resin-Based Model Kit Statue series
Release date: 2010
The resin-based statues released around 2010 incorporated Bujin with his pirate-like clothing and blue skin tone alongside his villainous galactic warrior comrades, Bojack, Zangya, and Bido. The initial complete set comprises all four models beside each other with a gothic building backdrop. However, the models are built two to a part, Bojack with Zangya, and Bido with Bujin. When both model parts are brought together, they form the full four character set. The construct of this set depicts the characters as they appear in the Bojack Unbound movie. Bujin is pointing at his opponent with one arm resting in his pocket.
Gallery