Tags: apiedit, Visual edit

 

Line 1:
Line 1:
−

{{techniques|offensive|physical techniques}}

+

{{techniques|offensive| }}

 

{{Infobox Technique

 

{{Infobox Technique

 

|name=Bomb Strike

 

|name=Bomb Strike

Line 10:
Line 10:
 

|inventor='''[[Cui]]'''

 

|inventor='''[[Cui]]'''

 

|user='''Cui'''

 

|user='''Cui'''

 
⚫
−

|class=[[Physical techniques|Physical]]

 
 
+

|class=[[Rush Attack]]

⚫
 
 

|similar='''[[Blast Fist]]<br>[[Double Strike]]<br>[[Heat Punch]]<br>[[Maximum Blow]]'''

 

|similar='''[[Blast Fist]]<br>[[Double Strike]]<br>[[Heat Punch]]<br>[[Maximum Blow]]'''

 

}}

 

}}

−

'''Bomb Strike''' (ボムストライク) is a powerful punch that is charged with [[energy]], used by [[Cui]] in ''[[Dragon Ball Z]]''.

+

'''Bomb Strike'''ボムストライク is a [[]] used by [[Cui]].

 
 
 

==Overview==

 

==Overview==

−

First, Cui prepares a red [[aura]] around himself and flies at his opponent, crashing into them directly to inflict a moderate amount of damage. Cui attempts this attack on [[Vegeta]] while on [[Namek]], but Vegeta dodges it ease. Cui flies directly into a cliff on the Namekian hillside, blasting it to smithereens from the force of the attack.

+

First, Cui prepares a red [[aura]] around himself and flies at his opponent, crashing into them directly to inflict a moderate amount of damage.

 
 
 
+

==Usage==

−

==Appearances in games==

 
 
+

Cui attempts this attack on [[Vegeta]] while on [[Namek]], but Vegeta dodges it ease. Cui flies directly into a cliff on the Namekian hillside, blasting it to smithereens from the force of the attack.

 
+
 
+

==Video Game Appearances==

 

[[File:BombStrikeCuiUTNamek.png|thumb|left|Cui prepares a Bomb Strike in ''Ultimate Tenkaichi'']]

 

[[File:BombStrikeCuiUTNamek.png|thumb|left|Cui prepares a Bomb Strike in ''Ultimate Tenkaichi'']]

 

Bomb Strike was named in ''[[Dragon Ball Z: Ultimate Tenkaichi]]'', as one of Cui's [[super attack]]s.

 

Bomb Strike was named in ''[[Dragon Ball Z: Ultimate Tenkaichi]]'', as one of Cui's [[super attack]]s.

 
+

{{-}}

 
 
 

==Gallery==

 

==Gallery==

Line 30:
Line 34:
 

</gallery>

 

</gallery>

 

}}

 

}}

 
+
 

==References==

 

==References==

 

{{Reflist}}

 

{{Reflist}}
---
Latest revision as of 20:36, 15 February 2019
Directory: Techniques → Offensive Techniques → Rush Attack
Bomb Strike (ボムストライク Bomu Sutoraiku) is a Rush Attack used by Cui.
Overview
First, Cui prepares a red aura around himself and flies at his opponent, crashing into them directly to inflict a moderate amount of damage.
Usage
Cui attempts this attack on Vegeta while on Namek, but Vegeta dodges it ease. Cui flies directly into a cliff on the Namekian hillside, blasting it to smithereens from the force of the attack.
Video Game Appearances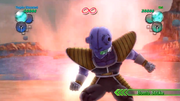 Bomb Strike was named in Dragon Ball Z: Ultimate Tenkaichi, as one of Cui's super attacks.
Gallery
References