Chrome0X wrote: Oh? So importance to the story and ideas behind the design are important now? How interesting.
DSSB was an introduction of what could be a hybrid Saiyans version of divine full blooded Saiyan forms. It introduces a naturally doubled aura with such extreme power it allows Trunks to fight on par with the likes of Goku and Vegeta. And you say "he was little more than a SS2" let's recall. Goku goes SS as a grown man along with Goku and Vegeta. Trunks goes SS AS A TEENAGER. Following the Majin Buu arc Vegeta attains divine power a mere six months later. Why is it so hard to believe that Trunks(who is established to have much greater potential and growth rate) after his Majin Buu arc AND MORE because he had been dealing with black finally taps into this form? Was the GB arc perfect? No far from it, but don't ignore the good parts it did have.
Super Saiyan Rose introduces the fact that SSB is such an intricate transformation that if the soul of the being is different so To is the form. If you don't like that it's a Pink SSB then you must not like SS2 which is spikier SS, or SS3 which is spikier SS2, or SS4 which is a red furry guy for some reason. The list goes on.
I understand your not wanting to be a mindless consumer, I even commend it. But you are ignoring every attempt of the writers to get this thing right in favor of senselessly bashing the series. And as I said before that isn't a fan, that's a band wagon jumper.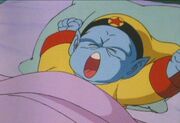 Hahahaha LOL. Since when this show that attempts to attract kids had any depth put into it? It isn't "Batman: The Animated Series"! Heck, it isn't even Dragon Ball Z, so don't kid urself. I am via mobile and definitely don't recall its plots having such efforts of deep writing during all of it's episodes: the Battle of Gods? sucks; Resurrection 'F'? sucks and is considered the franchise's worst saga along the Super 17 Saga; the Champa Arc? dull; Zamasu Arc? mediocre at most of it and Future Trunks' form was not even explained (neither were his ultra-mega-super quick Mafuba learning skills and Spirit Bomb Sword) as it was just a cheap move to sell more toys but avoiding SSG because of the fandom reaction to it's dull design; Tournament of Power? B-O-R-I-N-G!
Oh, excuse me, dear mister "I want to be a mindless costumer who eats whatever lame stuff Toei or Toriyama will serve me"; didn't meant to hurt ur mindless follower's feelings. A fan is anyone who consumes this franchise for a long time and caring for it's quality, kissing up to dimes tore claims by the franchise's owners is the opposite of being a fan.
Small edit: I don't like it when people ignore reality and try to sugarcoat it.